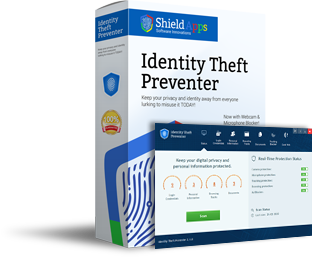 ShieldApps
Identity Theft Preventer - 36 Months license
---
Identity Theft Preventer is A MUST product for the modern internet user. The software is designed to protect you from identity theft attempts by various sources. Identity Theft Preventer looks for potential privacy hazards, hides your online tracks and keeps your personal information hidden from hackers. 

Identity Theft Preventer scans for threats that reside-on, or attempt engaging your browsers, emails, personal profiles and local files on your computer, and alerts upon a new detection. Furthermore, sensitive documents that may reside on your hard-drive will be flagged and reported as potentially risky for you to act upon.
Identity Theft Preventer blocks your webcam and microphone from external abuse attempts!
PROTECT YOUR IDENTITY
Hide your personal information, remove unsafe sensitive data, and take control of your video and audio sharing.
LEAVE NO TRACK BEHIND
Remove all traceable personal information - Identity Theft Preventer locates and removes every digital trace from your desktop computer or laptop.
WEBCAM AND MICROPHONE BLOCKER
Prevent your webcam and microphone from being hacked into. By using Identity Theft Preventer, you'll automatically deny all external access attempts. Every abuse attempt will be tracked and reported.
AVOID 3RD PARTY BEHAVIORAL TRACKING
COMING SOON! Identity Theft Preventer removes your logged online browsing habits and proactively blocks ad-tracking attempts by advertising mechanisms and data mining companies.
REAL-TIME PROTECTION
Identity Theft Preventer monitors your computer 24/7 for malicious activities and attempts, warns and removes them in real time.
PERSONAL PROFILE PROTECTION
Identity Theft Preventer protects you from identity theft by revealing where your phone number, email, physical address and credit card information are logged on your computer, and helps you delete them.
LOGIN CREDENTIALS REMOVAL
Identity Theft Preventer scans your computer for traceable login credentials to your favorite websites, portals and service providers - and removes those traces at your discretion.
WEBCAM AND MICROPHONE BLOCKER
Cyber-criminals use scripts & codes to access PC cameras & microphones in order to get valuable information and/or record your exposed room view/sound without your knowledge. Identity Theft Preventer blocks any use of these devices until you decide otherwise!
 LOCAL DOCUMENTS SCANNER
Identity Theft Preventer finds local documents that may contain identity-related information such as social security number, bank accounts or credit card numbers. Identity Theft Preventer then alerts upon detection and prompts you to either delete them or store them in a more secured location.
BROWSER HISTORY MANAGEMENT
Identity Theft Preventer deep scans and removes your browsing activity logs. Upon scan and report of the found tracks, you will be able to decide which information, if at all - can be left untouched, and what should be deleted completely.
SCHEDULED SCANS & PROTECTION
Identity Theft Preventer scheduler allows a set-and-forget setting that lets you automatically scan and proactively protect your computer at all times
---
Share this Product
---
More from this collection
Liquid error (layout/theme line 369): Could not find asset snippets/oneclickupsellapp-theme.liquid