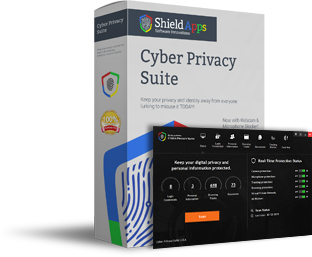 ShieldApps
Cyber Privacy Suite - 36 Months license
---
Stop Web Tracking!
Your digital information and web-behavior are being constantly monitored, logged and tracked every day. The gathered information is then being processed, sold, and used to monetize your web activity by various 3rd parties. Cyber Privacy Suite stops web tracking!
Stay Safe & Anonymous Online with a Secured VPN!
Your web, shopping & social activities are easy bait for others to monitor, log, and potentially abuse over an unsecured connection. Cyber Privacy Suite equips you with a secured VPN connection to encrypt your communication, protect your online activity & secure your digital actions when using a wifi connection.
Prevent Webcam & Microphone Hacking!
Hacked webcam and microphone access details are being sold on the dark web for under $5, providing easy inbound sight and sound access to your family's living room, bedrooms, and even bathrooms at times.  Cyber Privacy Suite blocks your webcam and microphone from external abuse!
Cyber Privacy Suite Highlights
PROTECTS YOU FROM FINGERPRINTING - Cyber Privacy Suite proactively scrambles fingerprinting profiling, attempted by 3rd parties in order to track your online activity and utilize your identifiable data for profit.
PROTECTS YOU FROM IDENTITY THEFT -  Cyber Privacy Suite will prompt you to remove unsafe sensitive and personal data, making sure that your personal information is not easily available to ID thieves.
FEATURES:
ANTI TRACKING ALGORITHMS - Cyber Privacy Suite proactively blocks fingerprinting, tracking and data mining attempts by 3rd parties and hackers, so your web-habits and information cannot be collected and abused.
IDENTITY PROTECTION MECHANISM - Cyber Privacy Suite protects you from identity theft by revealing where your phone number, email address, mailing address and credit card information are logged on your computer and helps you delete them.
WEBCAM & MICROPHONE BLOCKER - By using Cyber Privacy Suite, you will categorically block all external access attempts to your webcam and microphone so they cannot be hacked.
BEHAVIORAL TRACKING BLOCKER - Cyber Privacy Suite removes logged browsing habits & login details, proactively eliminating chances of those credentials being stolen & abused.
REAL-TIME PROTECTION AND ALERTS - With ongoing malware advancements and changes, immediate response time is acute. Cyber Privacy Suite monitors your computer 24/7 for information phishing attempts, prompts you instantly and blocks them in real time.
LOGIN CREDENTIALS REMOVAL - Cyber Privacy Suite scans your computer for traceable login credentials to your favorite websites, portals and service providers - and removes those traces at your discretion so they cannot be traced and abused.
ADVANCED COOKIE BLOCKING - Cyber Privacy Suite provides a set-and-forget setting that lets you automatically block cookies that are suspected to be privacy-risking or malicious.
LOCAL DOCUMENTS SCANNER - Cyber Privacy Suite locates local documents that may contain identity-related information such as social security number, bank accounts or credit card numbers, alerting upon detection and prompting you to either delete or secure those files.
---
Share this Product
---
More from this collection
Liquid error (layout/theme line 369): Could not find asset snippets/oneclickupsellapp-theme.liquid