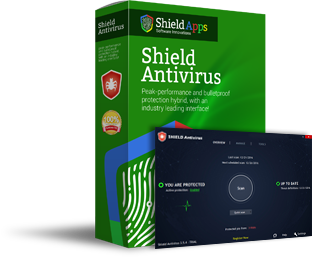 ShieldApps
Shield Antivirus- 12 Months license
---
All in one computer security!
Shield antivirus offers protection from all to date viruses, trojans, and spyware. Shield Antivirus offers active protection from threats and is set to monitor, block, and alert whenever a threat is detected. The software's light installation process makes it easy to install and will only takes minutes after downloading until the user's computer is fully protected. Shield Antivirus also offers email protection by blocking and quarantining any threats located in incoming emails. The software offers full protection from online threats at a fraction of the CPU load due to its advanced detection engine and algorithms. Shield Antivirus automatically scans a computer for threats on a schedule set up by the user; it is set and forget! Shield antivirus includes tools such as the secure file eraser, history cleaner, and start-up manager that help keep a computer protected and operating at its peak performance level. Performing scans with Shield Antivirus on a daily basis will ensure that a computer will remain virus free.


All in one PC security

Shield Antivirus detects and removes viruses, spyware, rootkits, bots, trojans and all other types of internet security issues. Shield Antivirus is an all-in-one computer protection software that keeps your computer safe, your privacy protected, and maintains the integrity of your information-security at all times.

Shield Antivirus easy install

Shield Antivirus' light and easy installer ensures a smooth, trouble-free installation process by being preconfigured and automated to match the common user's needs, settings and preferences.

Deep threat scanning

With one of the most extensive threat databases available to date, Shield Antivirus scan finds and eliminates many threats that other products in the industry fail to detect. Shield Antivirus' databases and virus definitions keep updating on a daily basis from various sources, thus keeping your computer on-guard status optimal.

Real-time active monitoring and protection

Shield Antivirus utilizes multiple detection methods and advanced algorithms to monitor and protect against online and local security issues, including all known viruses and hacking types, in real time.

Email virus protection

Shield Antivirus protects your email client against incoming-email-viruses in both Outlook, Outlook Express, Windows Mail and any other email program using POP3 and SMTP. Shield Antivirus email protection is crucial to maintain your computer email-virus free.

High performance anti-malware/adware engine!

Shield Antivirus combines advanced antivirus and anti-spyware technologies to provide complete security and privacy. Shield Antivirus will prompt you to maintain your privacy at the maximum posible level on one hand and will stay alert to protect you from all incoming threats.

Advanced anti-rootkit algorithms

Shield Antivirus finds and neutralizes hard-to-remove malware that gains unauthorized access to your computer and hides deep within your PC. Shield Antivirus will stand guard and alert you on any incoming threat or outgoing personal information

Removable device scanning/USB protection

Shield Antivirus scans all USB and flash drives as well as other removable drives and files for threats automatically when connected to your PC.

History Cleaner

Shield Antivirus is capable of removing browsing and search history logs, including the history stored by many popular applications. This feature is crucial to maintain your privacy and online anonymity as many applications and online services may try to access those logs.

Start-up manager

Shield Antivirus PC Explorer feature reveals settings on your computer that are normally hidden and enables you to add programs to the Always Allowed list.

Shield Antivirus secure file eraser

Shield Antivirus adds an "Erase Files with Shield AV" option to your Window's Explorer menu to permanently delete all traces of a file and make sure it is truly, completely deleted off your system and does not leave any unneeded residues behind.

Scheduled Scans

Shield Antivirus' scheduler allows a set-and-forget setting that lets you automatically scan and proactively protect your computer at all times. The combination of Shield Antivirus' active protection and the scan scheduling mechanism provide a maximum security state, 24/7.

Selection and removal

Shield Antivirus' reports back all found threats upon a scan. The reported threats can be either completely removed OR alternatively you can selectively choose which ones to delete and which one to ignore.

Quick, full, and custom scans

Shield Antivirus' multiple scan options provide the ability to either deeply scan 100% of your system, a quick scan of the most common problematic sections, or a custom scan if you are looking for a specific threat, or suspect an infection in a specific location in your system.

Quarantine to allow restoration of detected files

Threat detection is not always 100% definite. In cases in which the detection is not a 100% valid threat, Shield Antivirus will recommend or auto-process that threat to be quarantined in order for it to be possibly restored at a later date.

Removal of unwanted browser cookies

Shield Antivirus' browser scan will list all cookie scripts that are known to be suspicious or problematic as potential threats to your privacy.

Automatic updates

When needed, the virus, spyware and malware database will automatically be updated for free! This means that you never have to worry if it is up to date.
---
Share this Product
---
More from this collection
Liquid error (layout/theme line 369): Could not find asset snippets/oneclickupsellapp-theme.liquid