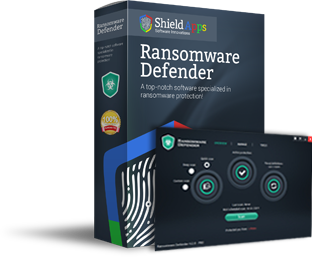 ShieldApps
Ransomware Defender - 12 Months license
---
Overview
ShieldApps' Ransomware Defender deals with known ransomware in a way no other solution can. Specially designed for detecting and blocking ransomware prior to any damage, Ransomware Defender blacklists and stops both common and unique ransomware. Once installed, Ransomware Defender stands guard 24/7 utilizing active protection algorithms enhanced with user-friendly alerts and notifications system.
Ransomware Defender is fully automated, taking care of all threats via an advanced Scan > Detect > Lock Down mechanism that proactively stands guard to detected threats, and works alongside all main antiviruses and anti-malware products!
Ransomware Defender also features a scheduled automatic scan, secured file eraser, lifetime updates and support!
NEW - INTERNET SECURITY! - Ransomware Defender protects you from malicious online attempts to attack your computer and infect it with malware.
Smart Ransomware Detection – Thanks to advanced detection systems Ransomware Defender will find and stop every known ransomware.
Active Protection – Once it's on, the software keeps a close eye on any suspicious action on your computer. Your system will be under a 24/7 surveillance for ransomware, notifying you whenever something fishy is happening.
Deep Scan – Ransomware Defender's algorithms allow it to look deep inside of your system in order to find and stop each potential threat. 
Scheduled Scan/Clean – Maintain your PC clean at all times, but at the same time free yourself from performing cleanups. Ransomware Defender gives you the option to do that for you. You can pick a precise time and date of a scheduled scan/clean, and the software will do the rest for you.
History Cleaner – Besides ransomware protection, Ransomware Defender will keep your privacy as well. By cleaning your browsing and search history you can be sure your personal information and properly removed and far from the prying eyes.
Secure File Eraser – Ransomware Defender can also be used for deleting files and folders from your computer. When Secure File Eraser is active, every piece of data related to the file you are removing will be deleted as well.
Automated Updates – With Ransomware Defender you won't have to worry about it being up-to-date since the software does everything by itself. Each new definition or software version is downloaded and installed right upon its release.
Easy Install – The entire process of installation takes just a few clicks and not more than a minute.
User-Friendly – Ransomware Defender was developed for common users. Everyone will have no trouble finding its way around the interface or when utilizing software's features.
---
Share this Product
---
More from this collection
Liquid error (layout/theme line 369): Could not find asset snippets/oneclickupsellapp-theme.liquid