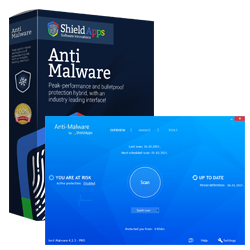 ShieldApps
Anti Malware - 24 Months license
---
Anti Malware offers 24/7 malware protection from malware, viruses and trojans.
Anti Malware offers active protection from malicious threats and is set to monitor, block, and alert whenever a malware is detected.
Anti Malware offers full protection from online threats at a fraction of the CPU load due to its advanced detection engine and algorithms.
Anti Malware will automatically scan a computer for threats on a defined schedule and also includes extra tools and features such as the secure file eraser, history cleaner, and start-up manager to help keep your computer protected and operating at peak performance.
Complete Malware Protection – Anti Malware is on top of any known malware out there. You name it – viruses, Trojans, spyware, rootkits, bots, everything gets wiped out of your computer thanks to always up-to-date definitions and advanced detection system.
Deep Scan – Thanks to sophisticated algorithms Anti Malware looks deep inside of your computer finding every piece of potentially harmful software.
Real-Time Protection – Anti Malware keeps a close eye to your safety 24/7, and whenever something suspicious comes up the program will notify you about that. Each time a new threat is found a window will pop providing detail information about it and the ways to fight it.
Scheduled Scan – The program can be automated to work independently from your actions. With the scheduled scan you'll be able to perform a regular malware cleanup every day, week or month, depending on your preferences.
Easy Installation Process – With only a few clicks you'll be on your way to install the product. In just a minute everything will be set for the first scan and full protection of your PC.
Auto Update – You don't have to worry about your software being up-to-date since Anti Malware updates itself by default. Like this, you can stay assured you're getting the best protection possible.
Privacy Protection – Anti Malware will not only keep your computer safe but you as well. Using the software you can remove, your browser history and search logs for good.
Secure File Eraser – This feature allows you to locate and delete every file related to the one you want to remove from your PC with only one click. Once it's engaged, it will appear as an additional option on your right-click.
Startup Manger – Besides malware protection, the software will maintain your hard drive's health as well. Startup Manager allows you to pick which software/application is turning on alongside with the system. This way your boot speed is increasing and your PC is ready for use faster.
Peak Performance – Unlike other antivirus software that slows your PC when engaged, Anti Malware will allow you to use a full potential of your computer and stay safe at the same time. 
---
Share this Product
---
More from this collection
Liquid error (layout/theme line 369): Could not find asset snippets/oneclickupsellapp-theme.liquid