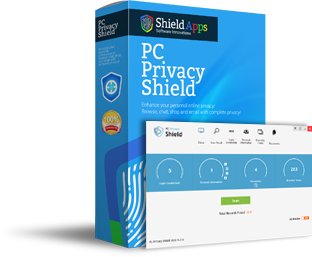 ShieldApps
PC Privacy Shield - 24 Months license
---
Supercharged privacy & identity security suite!
PC Privacy Shield will wipe out your online digital footprint, including your browsing history and tracking records. PC Privacy Shield will also provide you with an advanced file encryption mechanism to protect your personal and sensitive files!

PC Privacy Shield is used to both defend one's information from phishing AND to cover his/her tracks when needed. PC Privacy Shield will let you encrypt or delete login credentials and alert in real-time when those are being logged by the browsers.

PC Privacy Shield includes an easy to use ad blocker that blocks annoying and sometimes abusive banner advertisements!

PROTECT YOUR PROFILES
PC Privacy Shield protects against identity theft by revealing where your phone number, email, physical address and credit card information are stored on your computer.

ENCRYPT USERNAMES & PASSWORDS
PC Privacy Shield performs a deep scan for usernames and passwords that are logged on your device. You can then either remove them or encrypt them into a secured password management vault.

SCAN FOR THREATS
PC Privacy Shield lets you easily scan your PC or laptop for any potential threats. The dashboard will instantly display your PC's vulnerability by revealing any potential security and privacy issues.

DELETE COOKIES
PC Privacy Shield will search your computer for any cookies embedded by aggressive, sometimes abusive advertisers as well as malicious hackers and prompt you to delete them.

DELETE YOUR BROWSER HISTORY
PC Privacy Shield conveniently lets you to selectively delete any record of visited websites that remained stored on your browser history.

ANTI TRACKING
Easily remove tracking records that include your personal browsing information, used to target you with advertisements, for identity theft profiling and for information phishing.

AD BLOCKER
Surf the web safely and conveniently without being annoyed by flashing banners and distracting ads. The Ad Blocking feature will block both static and dynamic banners, making your browsing experience smoother and faster.

LOCAL DOCUMENTS ENCRYPTION
PC Privacy Shield locates local documents that may contain identity-related information such as social security number, bank accounts or credit card numbers, and prompts you to either delete or encrypt those files into a secured files vault.

USER-FRIENDLY & AUTOMATED!

PC Privacy Shield's new version features a user-friendly wizard that will take you through the privacy protection process, explaining each step and step.
---
Share this Product
---
More from this collection
Liquid error (layout/theme line 369): Could not find asset snippets/oneclickupsellapp-theme.liquid